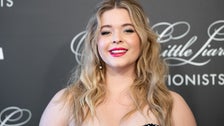 Sasha Pieterse is opening up about her "disheartening" journey with polycystic ovary syndrome (PCOS), which she said led her to gain weight while filming the hit show "Pretty Little Liars."
"This is part of the health issues that I was speaking of while I was going through 'Pretty Little Liars,'" Pieterse, now 27, said on Wednesday's episode of the podcast "The Squeeze." "The changes that were happening to me were documented on camera."
Speaking to podcast co-hosts Taylor Lautner and his wife, Taylor Dome Lautner, Pieterse noted that around age 15, she started noticing a difference in her metabolism, but that by 17 she had "gained 70 pounds in the year," adding that "there was no explanation for it."
The actor said that despite visiting "over 15 gynecologists" to seek answers about her ongoing symptoms, she felt unheard after doctors couldn't figure out what was causing her weight gain.
"I never had a regular period ever and I was just always told by gynecologists that I was just young. Like, 'Don't worry, it'll regulate,'" she explained.
Pieterse called the ordeal "the most frustrating experience."
"Because no matter what I did, no matter how well I behave, no matter how great I treated my body, things were actually getting worse rather than better. It was very, very confusing," she added.
Things began to turn around after she saw an endocrinologist who finally diagnosed her with PCOS.
"I was like, what's that? I'd never heard of PCOS before. And it's a disease, it's not curable, it can be dormant," Pieterse said.
Pieterse said she was frustrated that it took so long to get answers about her condition because PCOS is "fairly easy to diagnose."
"It's a hormone imbalance. It's a hormone disease, and it's so easy to see because your testosterone or your estrogen will be really high, you'll have really low vitamin D levels, you'll be deficient in a lot of things," "The Perfectionists" actor continued.
PCOS affects 6% to 12% of women and can cause symptoms such as infertility, irregular periods, acne, thinning hair, diabetes and excess hair growth on the face and body, according to the Centers for Disease Control and Prevention.
"I had a lot of those outward symptoms that everyone could see," she shared.
Pieterse, who married actor Hudson Sheaffer in May 2018, got candid with People in 2020 about how the pair initially had concerns about how PCOS might affect their ability to have a baby together.
"Just the fact that we were able to get pregnant was such a blessing because with PCOS that made me nervous," she said at the time. "A lot of women have infertility issues and so we were expecting more difficulty, so it's been an absolute blessing that we were able to just get pregnant by ourselves."
The couple welcomed their first child, Hendrix Wade Scheaffer, in November 2020.
Pieterse told People that becoming pregnant with her son helped ease her PCOS symptoms.
"My hormones have been balancing out, so it's actually been a good thing [in that regard]," she said. "And I'm hoping that this will maybe even help in the future, too."