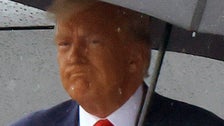 But there was at least a single minute for the duration of the proceedings when the former president was reportedly less than thrilled.
That came immediately after Trump's attorneys determined him to Justice of the peace Choose Moxila Upadhyaya as "President Trump."
"Good afternoon, Mr. Trump," Upadhyaya replied.
CNN's Kaitlan Collins stated that she'd been told Trump didn't like getting termed "Mr. Trump," noting that it "irked him specifically."
"That may not sound odd to any one else, but he is continue to referred to by his previous title, President Trump, when he's at his Bedminster golfing club in New Jersey, as he is tonight, or at Mar-a-Lago," she explained.