Cons
Clicky buttons

Tricky to store
The Gamevice Flex isn't perfect, but if you're hunting for a mobile game controller that can do it all, it's worth checking into.
About the Gamevice Flex
Price: $100
Connectivity: USB-C (Android) or Lightning (iOS), 3.5mm headphone jack, USB-C pass-through power
Compatibility: Works with all modern Android and iOS devices, including most first-party cases
Dimensions: 5.6 x 4.0 x 1.3 inches
Weight: 6.4 ounces (180 grams)
Special features: 1 LED Indicator, Xbox/Option/Menu buttons
The Gamevice Flex comes in two variants: Android and iPhone. They both function very similarly, so it's just a matter of deciding which platform you want to game on.
The obvious difference is one uses a Lightning connector while the other uses USB-C, so until the iPhone adds USB-C compatibility, you can't switch phone types without buying a separate controller. We used the Android version primarily for testing in this review—since that is where our preferred apps and games are—though we also checked the iPhone version to ensure it fit just as snugly.
What we like
It's super simple to set up
Mobile controllers typically fall into two camps: grips that include buttons that slide to fit all the way around your phone, and controllers with slide-out clamps that work with phones. The trickiest ones tend to be the controllers like the Gamevice Flex or Backbone One, which have two pieces tethered by a ribbon that grip the outside edges of your phone.
The biggest drawback to this design is it usually doesn't work with your phone's case on—and removing the case constantly is likely to break it eventually. The Gamevice Flex changes that, with enough space and a truly wild amount of adapters to accommodate nearly any normal phone case. Finding the right fit is critical, but Gamevice includes a sizing card with precut sizes. All you have to do is slide your phone in and out of the holes until one feels snug then grab the adapters with those labels.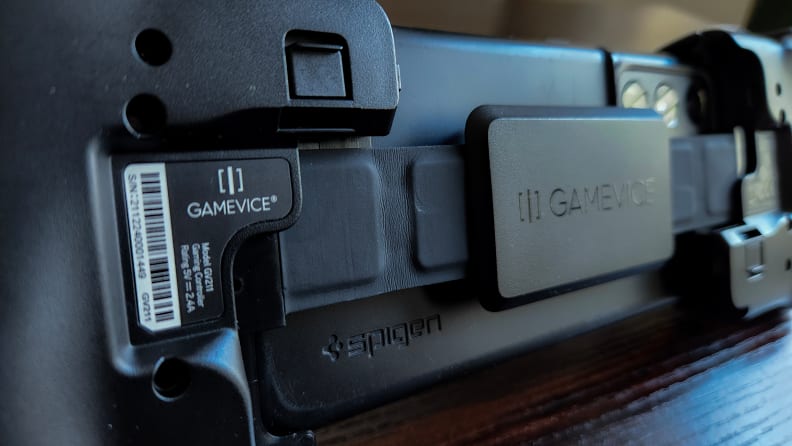 Once you have those clicked into place (and they should click into place) then your phone should slide in just as snugly as it did into the card. It fit my Sasmsung Galaxy S22+ with the case on very snugly, with just a hint of flex since my case is more rubberized than hard plastic.
Since it's a wired controller, you won't have to pair it to your phone, just boot up your app of choice and it should detect the controller. There are a few exceptions (such as Sony's official Remote Play app) which don't work with wired controllers, but alternative apps like PSPlay allowed me to use remote play on the Gamevice Flex just fine.
The controls are excellent
Mobile controllers range in price from $30 way up to well over $100, and you can usually tell the difference by the quality of the buttons. The Gamevice Flex is on the higher end of that spectrum, but the inputs feel like real console controls—mostly.
The pad comes with dual analog sticks that are a little plasticky but have plenty of grip and feel nicely weighted. The highlight is definitely the directional and control buttons, which feel just about perfect for any era of gaming. The shoulder buttons sound a little clicky, but they work well enough, and the two analog triggers have a nice amount of resistance.
The Flex even includes extra buttons that map to things like the Xbox button and Sony's share and PlayStation buttons. Most apps let you remap them, so you can also customize mappings to cover things like the clicks and swipes required to replicate the Sony Dualsense's touchpad.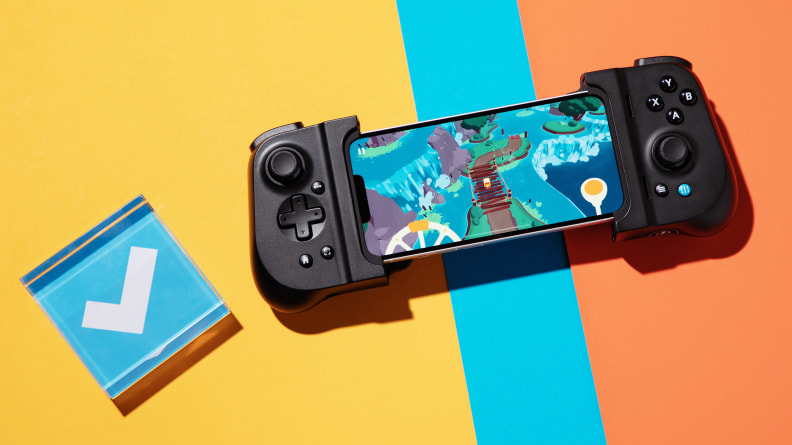 The performance is as good as it gets
With any mobile controller you're going to get some latency, but the wired setup on the Gamevice Flex cuts that down to an imperceptible difference. I was easily able to play multiple fighting games on the Flex through Remote Play on my PlayStation 5 and on my console natively, and I couldn't tell the difference. Even very tough bosses in Elden Ring and God of War: Ragnarök felt the same as playing on a console, without having to adjust my timing.
The exception there is if you're playing a game over the cloud, but in those cases, the latency is on the system end, not the controller. The Flex's minimal delay is ideal no matter the genre—and it felt about the same as using my PS5 controller over Bluetooth anyway. I can easily game using streaming or Remote Play over Wi-Fi from my couch, freeing up the main TV and letting me move around the house.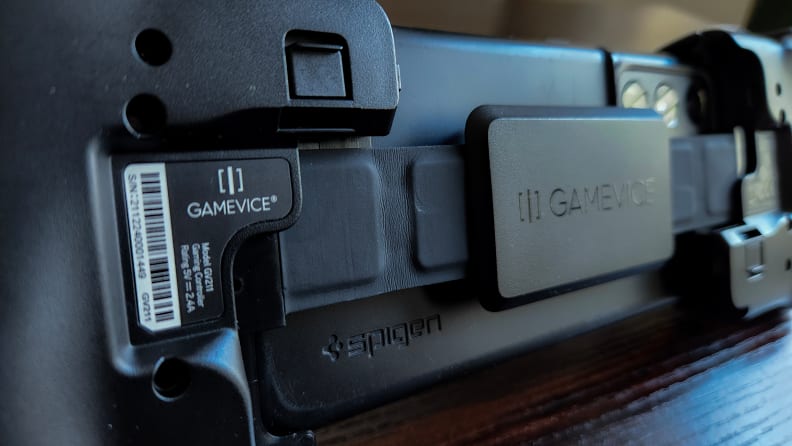 What we don't like
Tricky to put back together
File this under "nitpicking" but it's worth putting out there; it's not exactly clear how to slide the pieces back together at first. You can leave the adapters for your phone in place, but you'll need to eyeball how the two sides slide back together. I took it apart and put it back together maybe 20 times before I felt confident doing it quickly, which you'll want to get right before using it on the subway or anywhere else you'd need to stash it.
It's a bit pricey
There are mobile controllers right now that go for around $30, and while they're not great, they do get the job done. The $60 and up range is the sweet spot, which makes the Gamevice Flex's $100 MSRP feel like a bit of a luxury at the moment, though it is the same price as the newest Razer Kishi or the Backbone One. It's worth it—just not having to take my phone in and out of the case is worth the extra price—but it is a bit more costly than the barebones controllers on the market.
It won't fit some foldable phones
The two Gamevice Flex models I tried fit all the phones at my disposal. That includes the Galaxy S21 Ultra, S22, Note 20 Ultra, Google Pixel 6, iPhone SE, iPhone 13, and more. I might have too many phones around, but they all worked great. One notable exception is larger foldable devices, which are unlikely to fit the Gamevice Flex since it encloses around both the top and bottom edges of the phone.
Smaller foldables that go from ultra-pocketable and expand into a typical slate-size should be fine, but if you have a phone the size of an iPad Mini when unfolded, the Gamevice Flex likely won't work.
Should you buy the Gamevice Flex?
Yes, it's the best mobile controller for Android and iOS we've tested yet
As an early adopter to mobile phone controllers, it's remarkable to see how far they've come. I distinctly remember the side-eye I (deservedly) would get on long-haul flights as I assembled my Voltron-esque contraptions with various clips, console controllers, backup batteries, and wires just to play Final Fantasy X on my phone. There are now a ton of dedicated controllers you can get, ranging from the sub-$50 original Razer Kishi to under-$75 models like the Gamesir X2 Pro.
The Gamevice Flex—which is made by the same folks that designed the Kishi for Razer—is easily the best that I've used, and it accomplishes everything I need from a mobile controller. It's fast, lightweight, responsive, and it has all the buttons that I need to replace any console controller up to (and including) a full PS5 or Xbox controller, including remappable buttons for sharing and accessing key console features.
The controls themselves have an ideal weight and resistance, even across challenging titles like God of War and Star Wars: Jedi Survivor, to retro fighting games, Souls-likes, and modern shooters that require minimal latency and pinpoint timing. The buttons are a bit clicky, especially the shoulder buttons, but other than annoying my wife when playing Starfox 64, it didn't cause any problems. Add it up and the Gamevice Flex is easily worth the asking price, especially if you can find it on sale. It's an ideal companion for the age of cloud gaming, giving you the ability to take your games with you anywhere, no matter what type of gaming you want to do.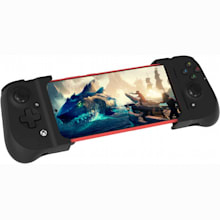 Gamevice Flex
The Gamevice Flex combines sturdy build quality with excellent buttons.
$100 at Best buy
The product experts at Reviewed have all your shopping needs covered. Follow Reviewed on Facebook, Twitter, Instagram, TikTok, or Flipboard for the latest deals, product reviews, and more.
Prices were accurate at the time this article was published but may change over time.
Meet the tester

TJ Donegan
Director, Content Development
TJ is the Director of Content Development at Reviewed. He is a Massachusetts native and has covered electronics, cameras, TVs, smartphones, parenting, and more for Reviewed. He is from the self-styled "Cranberry Capitol of the World," which is, in fact, a real thing.
See all of TJ Donegan's reviews
Checking our work.
Our team is here for one purpose: to help you buy the best stuff and love what you own. Our writers, editors, and lab technicians obsess over the products we cover to make sure you're confident and satisfied. Have a different opinion about something we recommend? Email us and we'll compare notes.
Shoot us an email