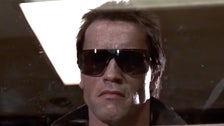 Screen legend Arnold Schwarzenegger says one of his best-known lines ― and one of the most repeated lines in movie history ― almost didn't happen.
In a new documentary series, Schwarzenegger admits that he lobbied to change the iconic "I'll be back" line from "The Terminator," which wasn't even the original line anyway.
James Cameron, who wrote the script with Gale Anne Hurd and directed the film, said in the "Arnold" series on Netflix that the line was supposed to be "I'll come back."
"It wasn't meant to be, like, a big moment, at all," he said. "It was literally meant to be, on its face, 'No problem, I'll come back, I'll come back.'"
Schwarzenegger didn't use the line.
"I said, 'Well, just say "I'll be back," Keep it simple,'" Cameron said.
But Schwarzenegger didn't love it.
"I said, 'Jim, to me it sounds funny to say "I'll be back",'" Schwarzenegger said. He thought ditching the contraction would make him sound more machine-like, and wanted to say a more robotic "I will be back" instead.
"And he says, 'Are you the writer?'" Schwarzenegger recalled. "And I said, 'No.' He says, 'Well, don't tell me how to fucking write.'"
Schwarzenegger tested out the line: "I'll be back" and Cameron told him he got goosebumps hearing it.
"I'll be back" is ranked 37th in the American Film Institute's list of "100 Greatest Movie Quotes Of All Time," and 19th in the top 100 as voted on by entertainment industry readers of The Hollywood Reporter.
"So this just shows to you who was right and who was wrong," Schwarzenegger said with a laugh.
The three-part "Arnold" docuseries is now streaming on Netflix. The discussion of "The Terminator" comes in the second episode, which focuses on his film career.