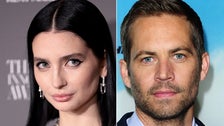 Meadow Walker Thornton-Allan, the only child of late "Fast and Furious" actor Paul Walker, has revealed that she's set to appear in the upcoming installment of racing movie franchise "Fast X."
The model, in a touching Instagram post on Thursday, shared a screenshot of her cameo in the film and reflected on her chance to "honor" her father in what is planned to be the second-to-last film in the franchise.
"I am so blessed to be able to honor my father's legacy and share this with him forever x I love you all so much," Thornton-Allan wrote.
Thornton-Allan, earlier in the post, looked back on the first "Fast" film's release when she was a one-year-old in 2001.
"I grew up on set watching my father, Vin [Diesel], Jordana [Brewster], Michelle [Rodriguez], Chris ['Ludacris' Bridges] and more on the monitors," she wrote, "Thanks to my dad, I was born into the fast family. I can't believe now I get to be up there too. With those who have been around to see me grow up."
She went on to thank "Fast X" director Louis Leterrier along with her father's best friend and producer Brandon Birtell in the post, as well.
A number of stars of the "Fast" franchise showed their support for Thornton-Allan including Vin Diesel, who commented a prayer emoji under the post.
Scott Eastwood also wrote that Thornton-Allan's father was "so proud of" his daughter in another comment.
"He is smiling about this right now!!," he continued.
Thornton-Allan's cameo in "Fast X" comes months ahead of the 10th anniversary of her father's tragic death in 2013.
Diesel, in an interview with Total Film magazine published earlier this year, teased a final farewell to Walker as the franchise comes to an end.
"That moment in 2013 when the world was struggling with his loss, the studio made a very bold and righteous and daring decision to keep Brian O'Conner alive," Diesel said of the 2015 film "Furious 7," which relied on Walker's brothers to be stand-ins in an effort that kept him in the film.
"I will give you this without spoiling anything: I couldn't imagine this saga ending without truly saying goodbye to Brian O'Conner."