Bad Bunny is opening up about his "very cool" first on-screen kiss with a man.
On Tuesday, the Grammy winner shared details about the moment he locked lips with his "Cassandro" co-star in an interview with Time magazine.
"My first kiss for a movie and it was with a man," the Reggaeton star, who plays the love interest of actor Gael García Bernal in the upcoming drama film, told the outlet.
He quipped, "That's the penalty I get for being with so many women during my life."
"Cassandro" follows an openly gay Mexican wrestler from El Paso, Texas, named Saúl Armendáriz who dreams of becoming a famous luchador. The film sees the queer wrestler win over the hearts of fans of the notoriously homophobic sport.
The Puerto Rican rapper, born Benito Antonio Martínez Ocasio, added that he didn't feel "uncomfortable" at all about the smooch because it's all a part of acting.
"When they asked me for that, I said, 'Yes, I'm here for whatever you want.' I think it was very cool; I didn't feel uncomfortable," the 29-year-old singer said.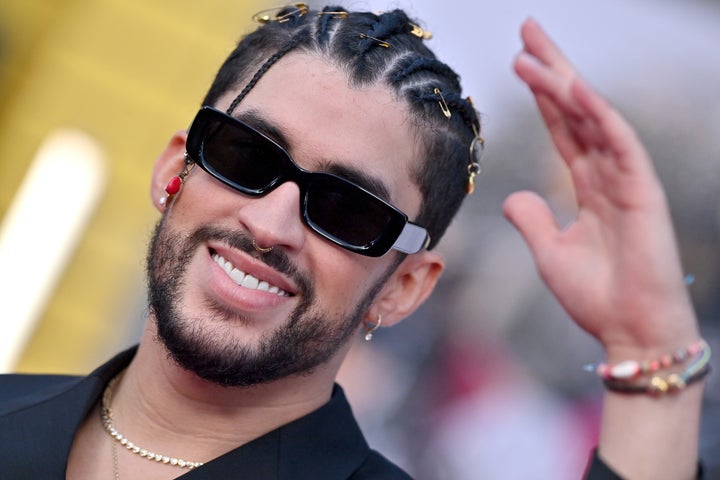 "If you're acting, you're being someone you're not," the "Diles" crooner continued.
Over the years, Bad Bunny hasn't been one to shy away from pushing back on traditional masculinity and has shown ample support of the LGBTQ+ community.
Last year at the MTV VMAs, the musician made headlines after kissing a male dancer during his performance. Just two years before, he donned several drag looks in the music video for his song "Yo Perreo Sola."
Directed by Roger Ross Williams, "Cassandro" also stars Roberta Colindrez, Perla de la Rosa, Joaquín Cosío, Raúl Castillo and El Hijo del Santo.
"Cassandro" first premiered at the 2023 Sundance Film Festival in January and will debut on Amazon Prime Video later this year.
Coming up for Bad Bunny, he's also set to star as Marvel's first Latino lead in a live-action Spider-Man spinoff called "El Muerto," which will hit theaters on Jan. 12, 2024.