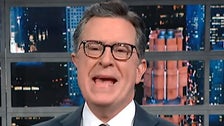 Stephen Colbert went as a result of the "damning" private communications of Fox News staffers and Television set personalities and came to just one stinging conclusion.
"Fox News doesn't believe that a phrase they say ― and neither need to you," he declared in the course of his Wednesday night monologue.
He saved some of his harshest phrases for Tucker Carlson, the proper-wing host who revealed he "passionately" hates Donald Trump.
"Since the revelation of his large duplicitous hypocrisy, I really don't know what to even believe that about Tucker anymore," Colbert reported. "Does he truly tan his testicles? Does he in fact want to have sex with the girl M&M or is he just top her on with his pale, pale testicles?"
Courtroom paperwork also showed Fox News executives lamenting that they named Arizona early ― indicating that if they hadn't finished so, they might've experienced greater ratings due to the fact "the mystery would have been however hanging out there."
"That's right," Colbert stated. "Fox Information believes news must be mysterious. They realized their journalism from 'Scooby-Doo.'"
He even provided up a "Scooby-Doo" clip displaying the gang exposing Trump: