R.K. Jackson did everything Beyoncé asked him to. He purchased the "Renaissance" mystery box ahead of the album's release. He bought the vinyl and the "Cuff It (Wetter Remix)" download. He even nabbed a commemorative "Renaissance" blanket he has yet to use and probably won't anytime soon as Atlanta warms up.
"I got it all and that's really unheard of, for me to just be out here buying a bunch of merch and stuff. But this just feels different," the 32-year-old marketing manager said.
Getting the merchandise was the easy part. But he didn't expect Ticketmaster to switch up the process for buying concert tickets with a lottery in its Verified Fan program. He had to register to purchase tickets ahead of time, wait for access codes he didn't receive, and work through the general confusion caused by the Verified Fan system. After his anxiety mounted, he was finally able to snag a pair of tickets, spending $1,500 with fees. For him and countless others, getting tickets felt like a "Hunger Games" level of extreme.
Beyoncé's Renaissance World Tour was already expected to be a hot-ticket event before the global superstar announced it Feb. 1, especially considering she hasn't toured since 2018 for On The Run II with husband Jay-Z. With nary a visual for the album, save for the "I'm That Girl" teaser trailer uploaded to her YouTube account, the tour for her seventh solo studio album has created astronomical demand. It is among the most anticipated concerts of 2023 — and the timing couldn't be worse for fans.
With each album, her fanbase grows. And especially with "Renaissance," which capped off Beyoncé's record as the winningest artist in Grammy history, that expansion was felt. The "Renaissance" era has helped usher in renewed energy for house and dance music in the mainstream, and it paid beautiful homage to the queer Black artists who built the genres. With its seamless production and infectious bops and ballads, it was hard for anyone to only listen once. But that's Beyoncé for you: only getting better with age.
Enter Ticketmaster, worsening by the year. When Ticketmaster merged with Live Nation in 2010, they gained 70% control of the ticketing and live event market, making them a near monopoly. It's a necessary evil that fans must face to see their favorite bands, artists and performers.
Tickets for the Renaissance World Tour have sold out in many cities, with resell prices climbing four times higher or more on Ticketmaster, StubHub, SeatGeek and other sites. Verified Fan tickets for the final group of cities go on sale Saturday. Ticketmaster is still updating fans about tickets via Twitter.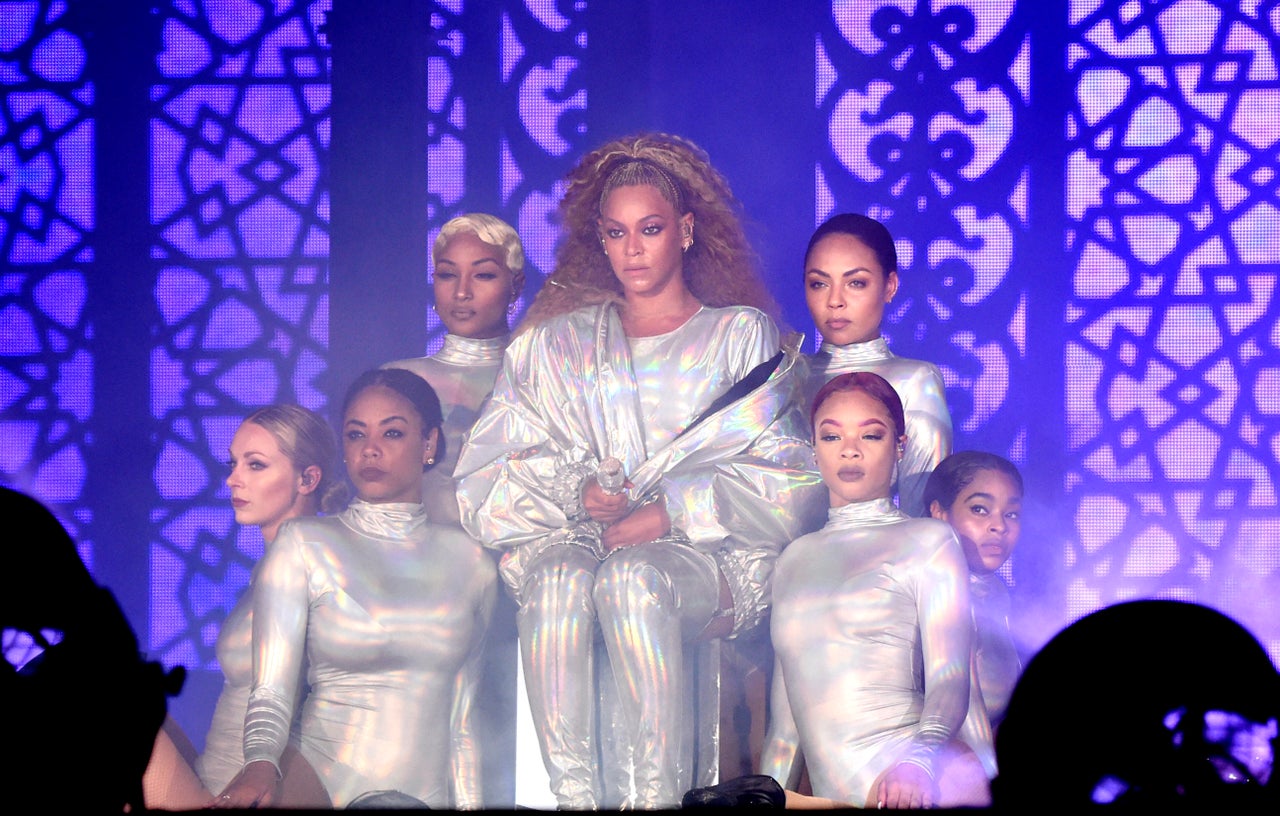 So Who Got A Code?
Those vying to see Queen Bey rallied their group chats and mentally prepared to have two or more devices open in the Ticketmaster queue, hoping to increase their odds of beating the bots that often scour ticket-selling sites for big events. That did not stop some fans from having to buy from resellers who price tickets higher than giraffe coochie.
This go 'round, Ticketmaster took a different approach to ticketing: to combat potential bots for Bey's North American tour dates, it used the Verified Fan model. This process isn't new to Ticketmaster, but for the Renaissance World Tour, the vendor enforced group sale dates. Buyers registered under three different groups (A, B and C) depending on which city they hoped to attend the tour. Fans also registered for an official Beyhive presale for those on the singer's email list and a Citi presale for those with a credit or debit card with Citibank. Some fans, including travel reporter Victoria M. Walker, applied for a Citi credit card specifically to increase their chances of obtaining access to the presale window.
Group A registration closed on Feb. 3 with a demand that was over 800% more than Ticketmaster had allotted. Demand for Group B and C also exceeded Ticketmaster's expectations, leading it to close registration for these groups Feb. 5, earlier than the vendor previously announced. Those not given a code initially were put on a waitlist. These fans were basically sitting by their phones and checking Ticketmaster's Twitter feed in hopes of gaining access as sales began. A Verizon Up presale code was also available for Verizon customers with a mobile plan.
Fans and stans alike signed up for their desired show and tried their luck at getting a code. Ticketmaster notified fans the day prior to the designated sale if they got a code. Social media turned into a chorus of broken souls as folks expressed their grievances about not getting early access. Those who got in reported long queue times, apparently dynamic pricing and getting kicked off of the Ticketmaster platform. Surely, they thought, they may have a better chance getting a Verified Fan code. Many, however, still had no luck.
Ticketmaster did not respond to a request for comment on its Verified Fan ticketing process.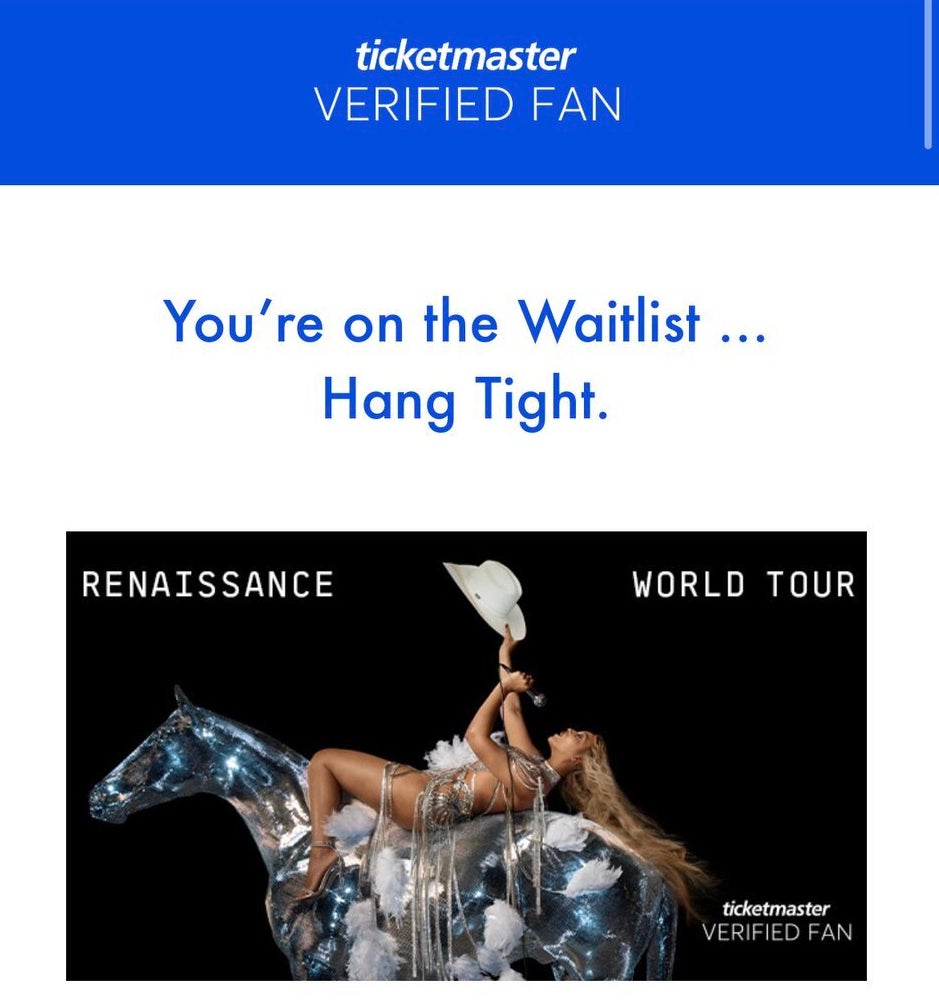 Jackson was one of the many fans who didn't receive a code initially, despite signing up for the Beyhive presale and general sale.
"I was expecting there to be a lot of anticipation and attention to this. But I guess I was more so expecting maybe selling out the first 30 minutes or so, but not just not being able to get a code at all," he said. "And so that kind of threw me a bit."
His saving grace, however, was a friend who let him use their Verizon Up login to buy two floor tickets for Bey's first Atlanta show. His purchase took place a day prior to the general sale, and he was eventually taken off of the waitlist.
Stephanie Ogbogu, 38, didn't receive a code either and also ended up purchasing Atlanta tickets with the Verizon Up presale. Ogbogu said she wouldn't have been able to get tickets at all had it not been for Verizon. For On The Run II, the Los Angeles resident spent just under $400 to sit on the third row of the floor. For the Renaissance tour, she broke her $1,000 budget, which she intended to go toward two shows, not one.
Ogbogu said the process was "utter chaos" and a bigger struggle than she experienced the first four times she saw Beyoncé. She was only in the virtual waiting room for 10 minutes before she got in and was kicked out, getting redirected to a Verizon login page. When she got back in, she saw tickets for $400, but they were gone in a few seconds. Keeping hope alive, she saw other floor seats within her budget, ranging from $515 to $580. She continued clicking to secure the tickets, but with no luck. Fearful that she wouldn't get one at all, she saw a seat marked "Official Platinum" for $1,600 and bought it using Klarna, a post-purchase payment system.
"It went through with no problems. It is almost as if they only wanted you to be able to select Official Platinum," she said. "I noticed there were Official Platinum seats that were way in the nosebleeds, which was crazy because I thought it was based on demand. There shouldn't be $1,000 seats in the nosebleeds, but there were."
Media personality Kalen Allen, 27, had the same issues as other fans. He documented his journey on social media through tweets, TikToks and Instagram reels. When he finally secured tickets to two shows in East Rutherford, New Jersey, he posted a screenshot showing that he spent $4,318.30 on one ticket alone. The fees were $556.05. This drummed up discussion on social media about the effects of Ticketmaster's monopoly and conversations about who's willing to pay what.
For Allen, who didn't realize he had shared the amount he spent in the screenshot, he's said that experiencing the show in the VIP risers on the stage will be invaluable. He remembers watching clips of Beyoncé having intimate moments with fans in the pit back in the day and aspiring to be able to afford those seats.
"It feels like this concert is going to be different. It feels like this concert is going to be a 360 experience where it feels as though it won't just be you in the crowd watching Beyoncé, but it feels like it's going to be a collective and shared experience," he said. "And I think that's representative of the music itself. The music feels like a shared experience. It feels like you are creating the magic with Beyoncé."
Corryn Hurrington, a 31-year-old Los Angeles native, didn't have time to play games with the North American ticketing process. She's one of the many U.S.-based fans who opted out of the Disappointment Olympics and decided to attend the Renaissance World Tour overseas. Though it wasn't without its stresses, European countries have a more reliable ticketing process due to laws against jacking up prices for resale.
Hurrington scored tickets for one of Bey's four London shows via a membership with Tottenham Hotspur Stadium, which offers exclusive access to buy tickets to events. The membership, which was $60, allowed her to secure tickets on Feb. 3 before any other presale. Several phone calls and emails later, Hurrington was on a 3 a.m. call with a representative to buy tickets for her friends at $480 each in a VIP section equipped with food and a bar.
Meanwhile, Tori Mansfield, a 33-year-old financial equity director from Oakland, California, opted to see the show in Paris for her 34th birthday. She and a friend spent $2,700 each for their front-row, onstage riser seats. She said she keeps a Beyoncé fund in case of an emergency.
"I knew that the European prices would actually be cheaper than the American prices," the six-time Beyoncé concertgoer said. "When I compared that to the same ticket and the Inglewood show or the Houston show, literally double, triple, quadruple the price of my Paris ticket."
For Winni Ghansah, a 30-year-old postal worker from Finland, going to a European show was a no-brainer. She's in a WhatsApp group chat with others traveling to the concert in Warsaw, Poland, on June 27 and 28. Though it is less than 500 miles from Ukraine, she said that isn't a big concern for group members, most of whom are traveling from the U.S.
Europe was an option, Allen said, but the issue is not only the travel and accommodation fees folks would be spending, but also that fans simply shouldn't have to leave the country to get a fair shot at seeing their favorite artist.
"What it looks like to me is price gouging, and I do not think it's legal. I appreciate their so-called attempts to eliminate scalpers and resellers overselling or overpricing the tickets, but they quite literally did what the resellers do."

– Stephanie Ogbogu on Ticketmaster's "Official Platinum" prices
Ticketmaster Is Playing, But This Ain't A Game
When Taylor Swift fans applied pressure to Ticketmaster after many of them missed out on the chance to see their fave in concert last year, it caused a ripple effect that led to a congressional hearing, demand for fair ticketing from fans, and a class-action lawsuit led by Jennifer Kinder of Kinder Law in Texas.
After Kinder had trouble securing Swift tickets for her daughter in 2022, she decided to put up a fight against the vendor. Ticketmaster used Verified Fan for Taylor Swift's tour as well. When Kinder noticed Beyoncé fans talking about their anxieties around getting tickets, she decided to take on the Beyhive as clients.
"It's not a fair market," Kinder said. "The ticket price that a consumer is paying is not based on what the fair market value is. It's not based on fair competition. It's a complete and total manipulation by Ticketmaster, whether or not Ticketmaster has allowed those bots to get in."
Rachel Dawson, a 30-year-old speech language pathologist from Atlanta who spent $1,200 on a Houston ticket, said Ticketmaster "needs to answer for their crimes."
Though her friend had access to the Beyhive presale, every time they tried to purchase, the prices of the seats they were looking at would increase. They paid twice more than what they initially saw for tickets in the same area. They emailed Kinder Law shortly after purchasing.
Ogbogu also submitted a claim, accusing Ticketmaster of not being forthright about how it determines the Official Platinum ticket prices. "What it looks like to me is price gouging, and I do not think it's legal," she said. "I appreciate their so-called attempts to eliminate scalpers and resellers overselling or overpricing the tickets, but they quite literally did what the resellers do."
Though the fervor isn't as intense as it was among the Swifties, Kinder hopes she can encourage more Beyoncé fans to give her a call.
"Beyoncé doesn't make more money. The fan pays more to get the ticket. And then Ticketmaster has a higher fee," she said. "My idea is that if Congress is not going to do something about it, then the blue-collar person in this country will. And so that's what we do, is we continue to sue and we continue to fight until we effectuate change."
Kinder has a federal hearing with Ticketmaster on behalf of her clients on March 27 in Los Angeles.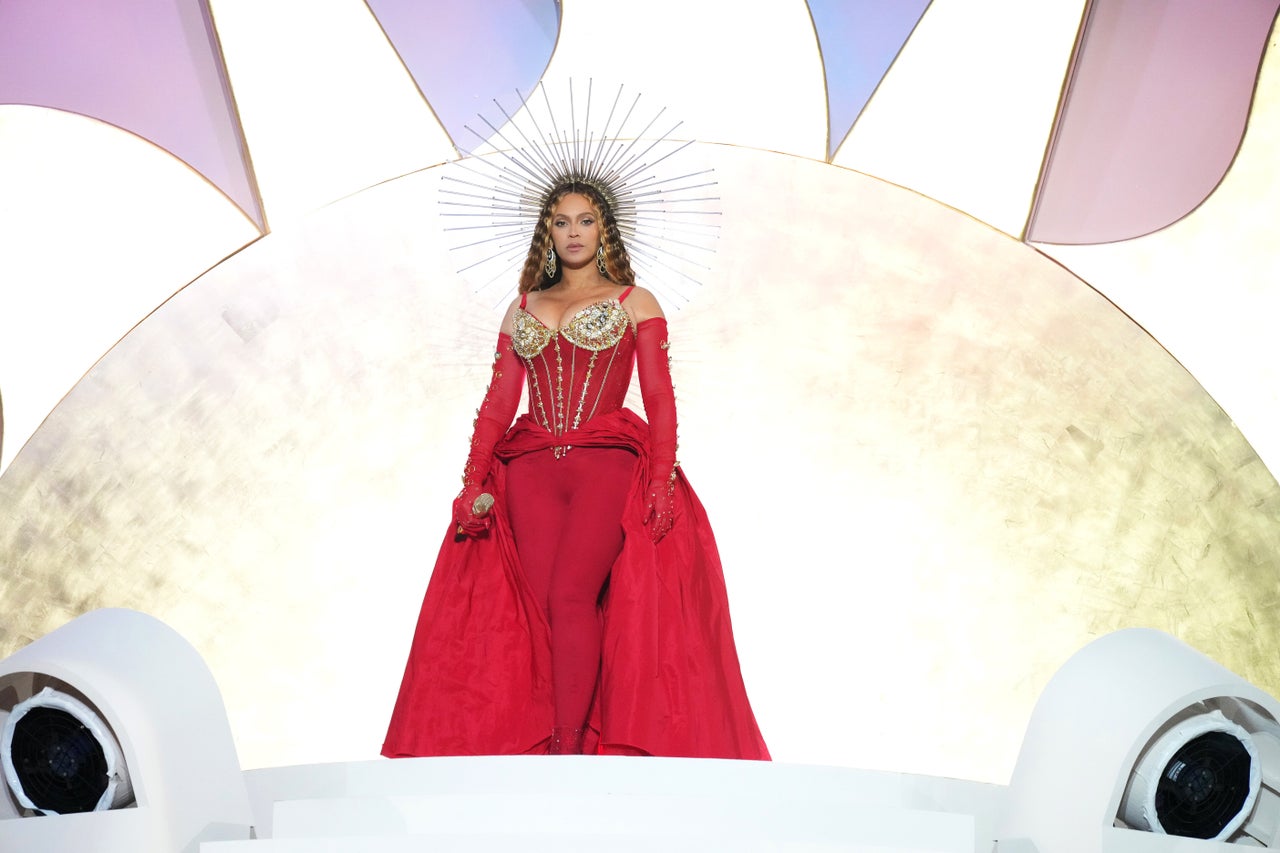 Despite the mayhem that ensued for many fans to secure their tickets, the lucky ones are happy to have a seat — especially as some suspect this may be Beyoncé's final world tour for a long time. Many are starting to realize, however, that that's not enough as the ticketing economy worsens.
At the time they spoke to HuffPost for an interview, Noella Williams, a 23-year-old culture writer from Pensacola, Florida, said they were frustrated that they didn't have tickets despite trying in different cities stateside and abroad. Nearly quitting at one point, they scored tickets for dates in London and St. Louis weeks after the initial sale. They even have floor seats for London and spent under $500 for both shows.
Though panicked for a time, Williams' patience paid off. They said it's vital for music fans to understand what's going on in the industry right now and watch where their money goes.
"I really don't think the music industry's headed, as far as live shows, in a good direction with the economy, with affordability, just with quality at all," they said. "[Camping out at] the box office overnight or whatever doesn't exist anymore. I really don't know what's next. As much as I can do is just go to these artists' tours, support them, and buy merch and music and stuff. They're not purposefully setting their tickets [prices]. It's all part of the bigger corporation getting more money."