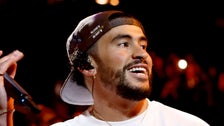 CBS President and CEO George Cheeks has opened up about the "errors" that surrounded a lack of closed captioning for the duration of a telecast of Puerto Rican artist Bad Bunny's opening effectiveness at Sunday's Grammy Awards.
Cheeks weighed in on the closed captioning of the performance ― and Bad Bunny's Grammy Award acceptance speech for Finest Música Urbana Album ― after fans known as out the use of "[SINGING IN NON-ENGLISH]" and "[SPEAKING NON-ENGLISH]" in the course of the telecast.
Cheeks, in reaction to a letter despatched by Rep. Robert Garcia (D-Calif.), wrote that he took "full responsibility" for the controversy and acknowledged that there should really have been a bilingual captioner on hand for the ceremony, Wide range noted.
"Regrettably, errors were created with respect to the closed captioning of his performance and subsequent acceptance speech," Cheeks wrote.
"We labored with a shut captioning seller that did not execute at a standard to which we should really rightfully be held. Regardless, we should have monitored the situation more closely. A bilingual (English- and Spanish-language) real-time are living captioner really should have been used and the words and phrases applied on the monitor were insensitive to lots of. I just take comprehensive obligation for what transpired."
Cheeks included that the network's closed-captioning team up to date captions ahead of the Grammys aired a second time on the West Coastline and for video clip on its streaming platform.
"Our teams are now re-inspecting the closed captioning approach for all are living enjoyment situations on the Network to assure we correctly caption Spanish-language information," the CBS head wrote.
The captioning chaos began as Poor Bunny kicked off the ceremony with a mashup of "El Apagón" and "Después de la Playa," tracks from his Grammy-successful album, "Un Verano Sin Ti."
Garcia, in a letter to Cheeks previously this 7 days, described himself as a very pleased Latino immigrant and named out the network for its failure to produce Spanish shut captioning in the course of its preliminary airing of the ceremony.
"For as well a lot of Spanish-speaking Us citizens, it felt disrespectful of our position in our shared society, and of our contributions to our shared lifestyle. For the hearing impaired neighborhood, this failure was hurtful," Garcia wrote.
Garcia later additional: "I am gratified by your attempts to address worries, which include including closed captioning to replays of the effectiveness, but I urge you to consider significant measures to handle the failures which built this slip-up feasible."