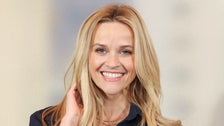 Kudos to Reese Witherspoon for being resourceful in what could have been a turbulent situation.
The "Your Place or Mine" star was anything but stiff when she revealed on "Late Night with Seth Meyers" a very "funny story" in which she once found herself entertaining an entire flight of passengers after things went awry mid-flight.
Witherspoon explained that the incident occurred back when flights played only one or two in-flight movies that passengers all watched together.
"It was a long flight, like a five-hour flight," she said. "And I walk in and they're like, 'The movie today is 'How Do You Know' starring Reese Witherspoon!'"
"And I was like, 'Oh, my God, I have nowhere to hide. This is so embarrassing,'" she said while hunching down and trying to hide herself under her hair. "And my kids were there too, and they're like, 'Oh, my God, my mom's so embarrassing.'"
Witherspoon said that shortly after the movie began playing, "it cut out … the tape broke or something," and she suddenly found all eyes on her.
"And so I went to the front of the plane, and I got on the microphone," Witherspoon continued. "And I was like, 'Hi guys, I don't think the movie is coming back, so I'm just going to walk you beat-by-beat what happened.'"
According to Witherspoon, she then went on to recap the entire 2010 rom-com for all the passengers.
"I just like that those people, the rest of the year, were telling people, 'You got to fly United, because the movie never finishes, but they have the star there,'" Meyers joked.
"It was actually so fun and funny to get to tell people the entire plot of my movie in like, three minutes," Witherspoon said laughing.
Well, good thing it was a light comedy like "How Do You Know" and not her 1996 movie "Fear," because it would have been really awkward to describe that rollercoaster scene to an entire flight.