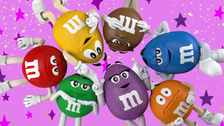 M&M candies famously melt in your mouth and not in your hand, but it seems its marketing executives aren't so sturdy.
The brand is taking "an indefinite pause" from the cartoon "spokescandies" it's used in ads since the mid-1990s, according to a message on the M&M's Twitter account Monday ― apparently in response to what can only be described as, well, a meltdown by conservatives like Tucker Carlson.
Last year, the candy company revamped the spokescandies to "create a world where everyone feels they belong and society is inclusive," as "Today" reported at the time.
Some of the changes included swapping out the Green M&M's go-go boots with "cool, laid-back sneakers to reflect her effortless confidence."
When those changes first occurred, Carlson griped that the new design made the Green M&M look "less sexy," according to Forbes.
Last week, the Fox News host once again criticized Mars, Inc. ― this time, for a new promotional wrapper featuring three female M&M's, including Green, Brown and a new Purple M&M.
The company announced it would donate some of the profits from sales to organizations that support a variety of professional pursuits by women.
"The Green M&M got her boots back, but apparently is now a lesbian, maybe?" he said. "And there's also a plus-sized, obese Purple M&M, so we're gonna cover that, of course. Because that's what we do."
The M&M's account tweeted Monday that "the beloved Maya Rudolph" ― actor, musician and "Saturday Night Live" legend ― will now be the face of its candy.
And, yes, M&M's referenced the go-go boot controversy in its statement.
"In the last year, we've made some changes to our beloved spokescandies," the statement read. "We weren't sure if anyone would even notice. And we definitely didn't think it would break the internet. But now we get it ― even a candy's shoes can be polarizing. Which was the last thing M&M's wanted since we're all about bringing people together."
Rudolph is set to make her first appearance as the new M&M's spokesperson in the candy's Super Bowl ad, airing Sunday, Feb. 12.
She appeared on "Today" Monday morning to put the best spin on the situation.
"I'm thrilled to be working with M&M's," Rudolph said. "I am a lifelong lover of the candy and I feel like it's such an honor to be asked to be part of such a legendary brand's campaign."
Rudolph couldn't share many more details, but she added: "It's a very fun pairing, if I do say so myself."
But many Twitter users were in shock that M&M's is sending its beloved mascots to the unemployment line because of a ginned-up controversy. (Maybe. Unless it's all a Super Bowl marketing stunt.)
One tweet, more than any other, seemed to sum up the general mood perfectly: