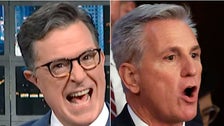 House Speaker Kevin McCarthy (R-Calif.) had an unexpected just take on the prolonged and contentious struggle in his conference to give him the gavel ― and it still left "Late Show" host Stephen Colbert much more than a very little puzzled.
"Because it took this prolonged, now we discovered how to govern," McCarthy claimed.
"Really?" Colbert asked. "Just this previous 7 days you acquired how to govern? There are some things that you shouldn't find out via trial and mistake at the final moment."
Then, he presented an illustration.
"It's like a surgeon declaring, 'Well, it took me 15 attempts to open up my Capri Sun, but this triple bypass must be a snap. Now, where's the piece of foil on your chest the place I poke the straw and suck out that heart assault,'" he cracked.
See a lot more in his Monday night time monologue: